Index-Manager for publishers
The software for professional indexing
Embedded index entries
It is an enormous challenge to give users access to relevant information in books and other contained publications. The index at the end of a book has been the main search engine for books for over 500 years. With embedded text-integrated index tags (embedded index entries), you can enable efficient and precise search to your quality digital content. Linked indexes — via embedded indexing — is increasingly necessary for added value in this digital age. Index-Managers flexible interface supports your different indexing and production workflows.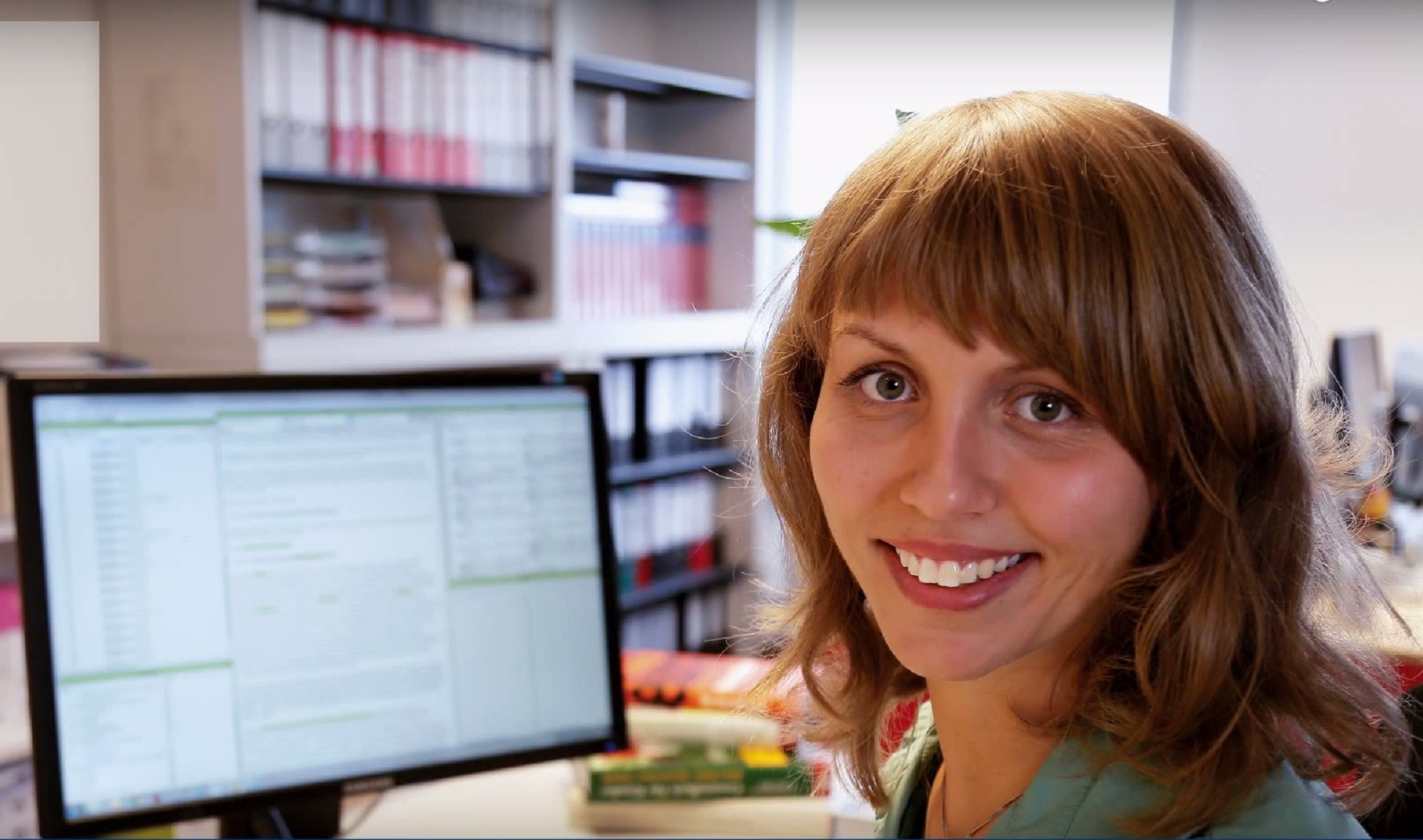 better . faster . embedded

Provide your authors and indexers an innovative and modern indexing tool, or if indexing work has to be done in-house, integrate your author's knowledge and other preliminary work for the choice of index terms and headings:
The innovative word list functions allow for systematic indexing. Powerful filter options enable display according to paragraph and character formats, or word lists. For well-structured manuscripts, you can use index terms culled from manuscripts headings.
Improve your Production Workflows
Indexing can be done in parallel to editing and layout work. Start indexing early on a draft and flexibly re-integrate the index entries at any later time in the publication process. During the use of Index-Manager, indexing information is not written back immediately into the imported source documents. Instead indexing information is logged into separate work files. Index-Manager uses these work files to integrate the index entries later into
modified and edited manuscript versions (.idx)
other file format versions, e.g. InDesign, Word, XML with the
Add-on Index-Transfer (.idxt).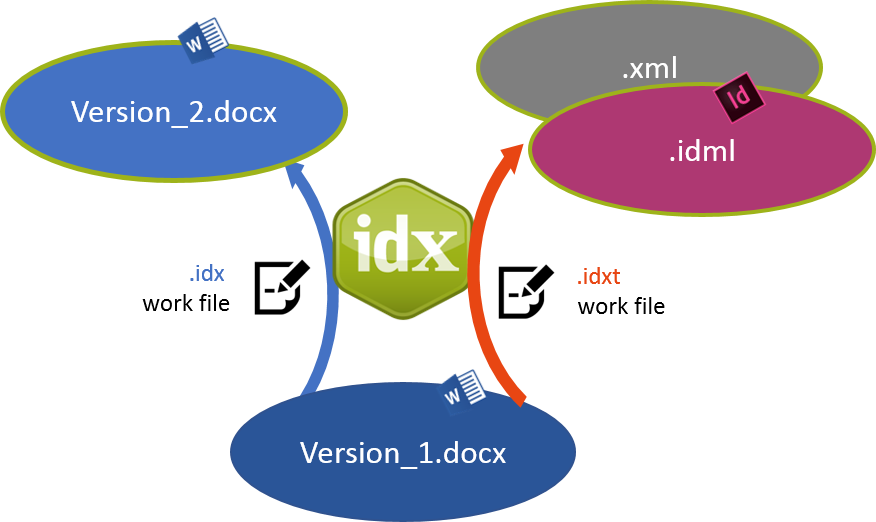 Take indexing off the critical path
Indexing doesn't have to be a time-critical and stressful last minute task. Instead of waiting for the indexed document, indexing can be started using an early version (Word or InDesign document) and the index entries can later be embedded into a modified version with a single click. The indexer receives the final manuscript (bottom left) for embedding or sends the indexing information so that the entries can be embedded by the publisher (bottom right).
Indexing and embedding in Microsoft Word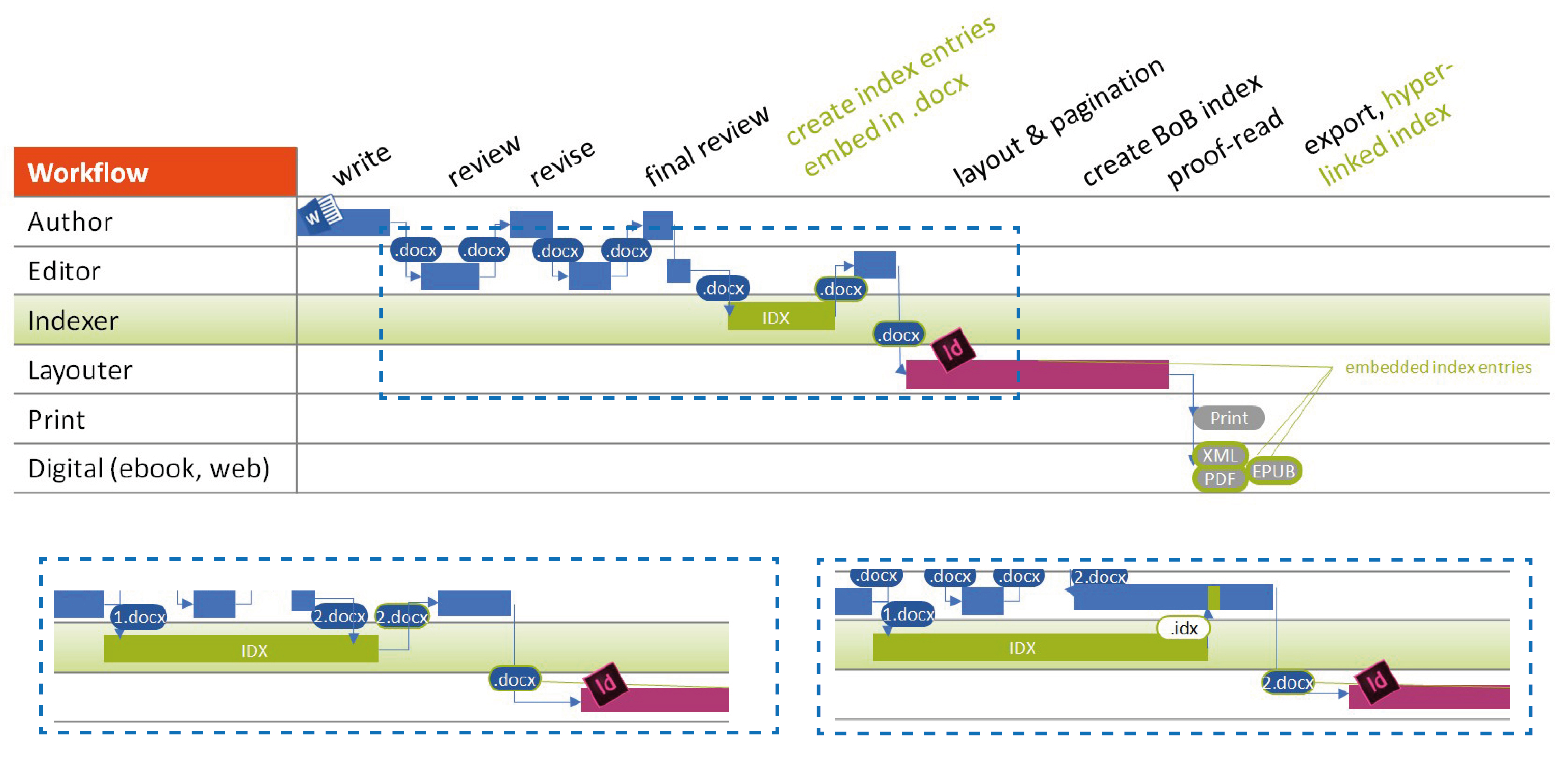 Indexing and embedding in Adobe InDesign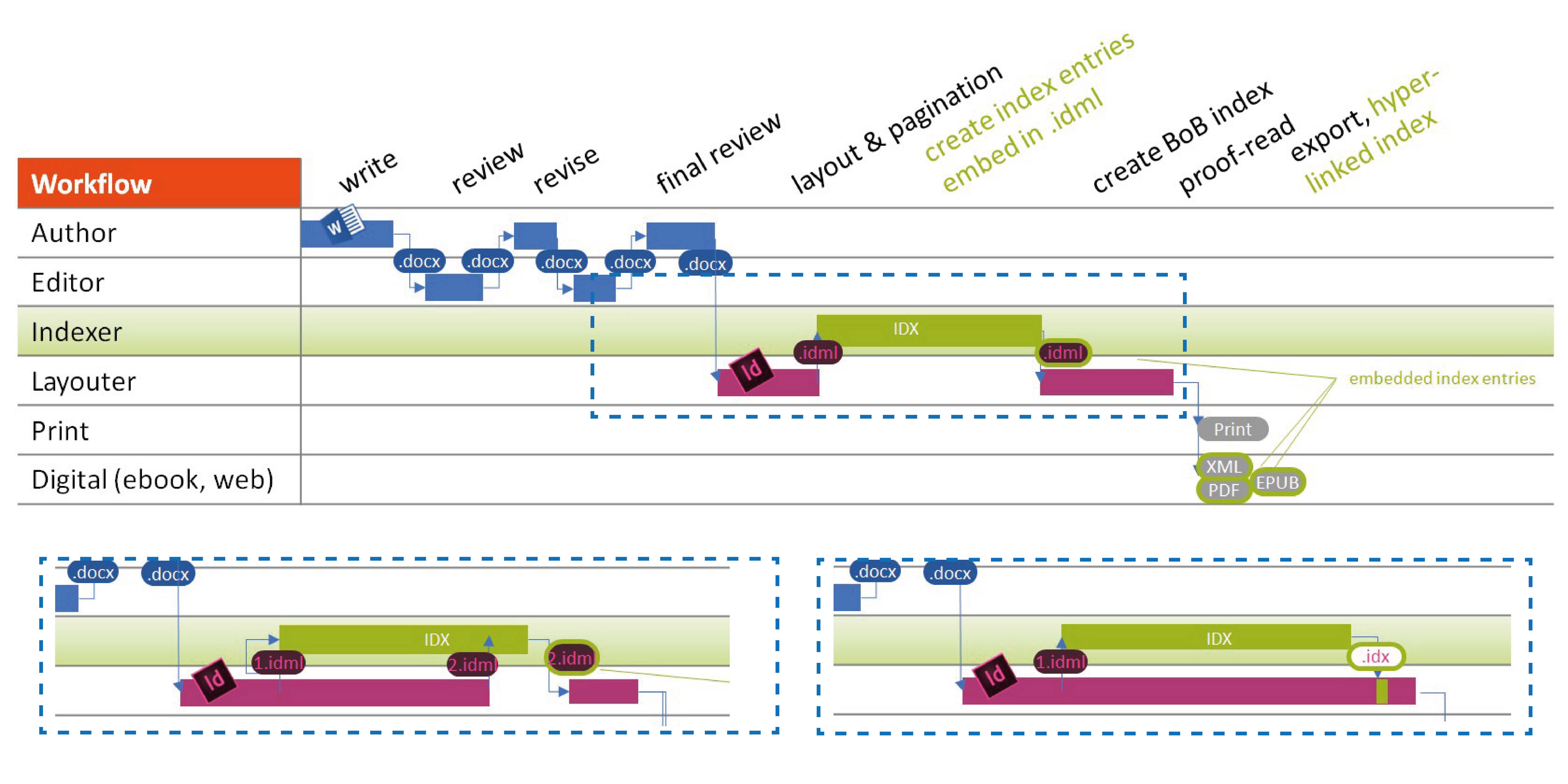 Indexing in Microsoft Word and embedding in another file format
Indexing can be started in a Word document and the index entries can later be embedded into another file format of the manuscript, e.g. InDesign or XML with a single click. The indexer receives the final manuscript for embedding or sends the indexing information so that the entries can be embedded by the publisher via Index-Manager (bottom left) or Command Line Interface (CLI) (bottom right).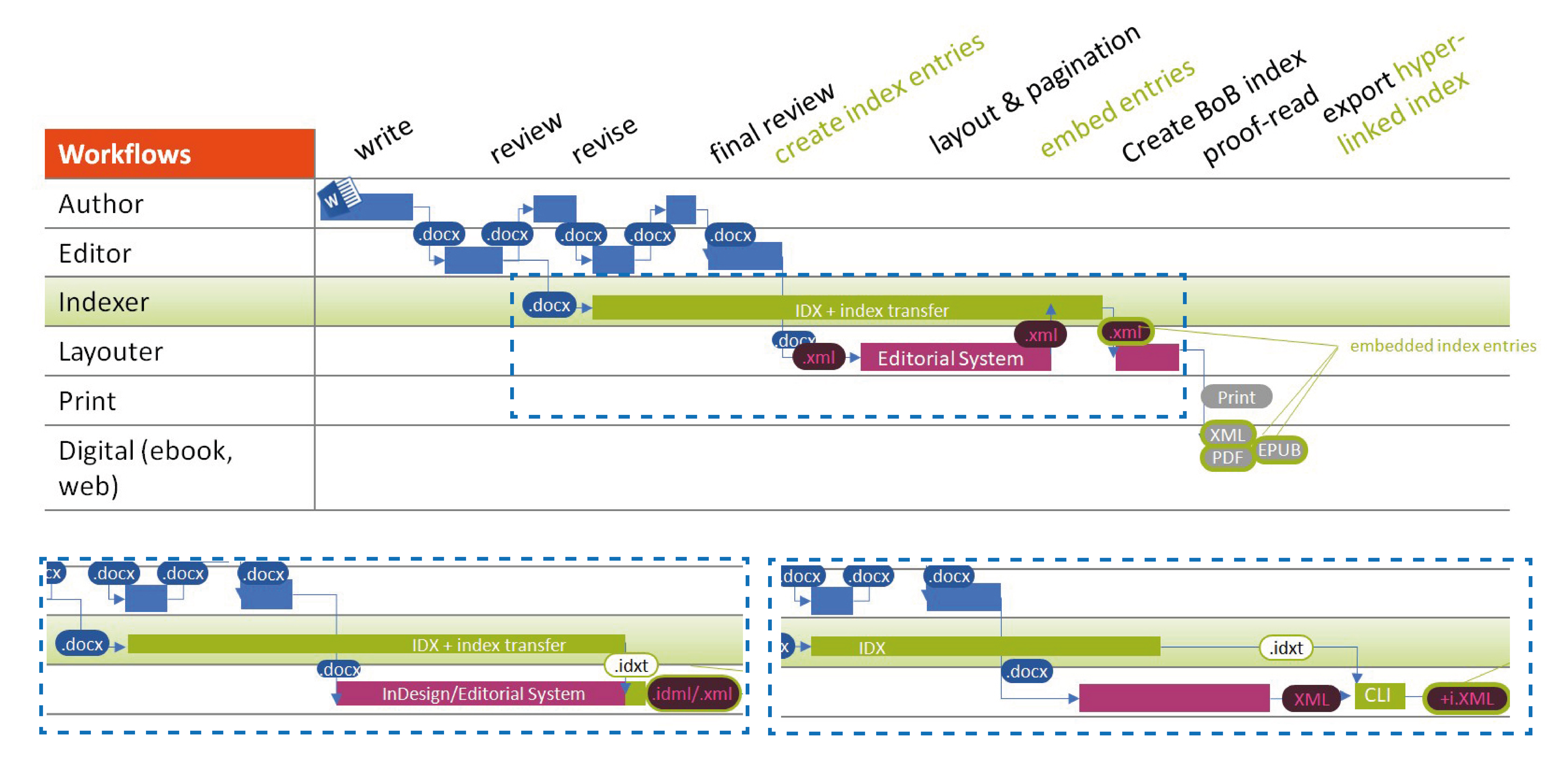 XML First and automatic production workflows
Indexing can also be done directly in XML after adapting the DTD. When embedding into custom XML or XHTML, the tags can be customized to publishers' requirements.
The CLI (Command Line Interface) version of Index-Manager is used for integration into fully automatic production workflows. It takes a publication document (in XML / XHTML) and embeds the .idxt entries. If the publication is paginated (in XML / XHTML), it can automatically build the Back-of-the book index.
All indexing work is logged in a separate file until export. This separate logging allows other tasks – like copyediting and proofreading – to be accomplished in parallel.
Working parallel on the data enables you to publish earlier and to always be one step ahead.
Once index entries are embedded into the manuscript, they become available even after changes and for future editions, saving you money on all future products.

Dr. Katharina Munk
Katharina Munk, a trained biologist, has worked since 1992 as a lecturer, author, editor, and indexer on large projects in biology and medicine. She initiated and has been closely involved in the development of Index Manager (Idx) since its inception. The first version of Index Manager was presented at the Frankfurt Book Fair in 2012.
Every publisher and every publication differs. Index-Manager offers solutions for all different index requirements.
We are open to your suggestions and requests for additional features, please contact us!
Your production process is XML-based.
We can adapt Index-Manager to your DTD, and define the structure of XML-tags for your index entries and cross-references.
We would be happy to demonstrate Index-Manager to you, and to show you the features and how you can integrate Index-Manager into your publishing processes — we can provide demonstrations even with your own data.
If you are interested in a short online presentation, please contact us with a proposed date.
Has this happened to you?
You received an index, where the author systematically used the sequence "first name, last name", instead of "last name, first name".
You standardize spelling and hundreds of index entries have to be changed.
You received an index where the author indexed by copy and paste without using the correct embedded indexing functions.
You embedded the index in Microsoft Word. You are now publishing in Adobe InDesign and  the index entries created in Word are not displayed in InDesign.
You used to embed in Microsoft Word, where you can provide multiple indexes, but now you work in Adobe InDesign, and you can only have one embedded index.
You forgot about the index! Typesetting and layout are done. You want to transfer index entries between different file formats — Can't we just transfer from Word to InDesign?
Index-Manager offers solutions! You are in control – no need for any exhausting post-editing.
The Index-Manager has been in use for over four years. We are delighted by the exceptionally positive response of customers.
Schade, dass nicht schon viel früher jemand auf diese Idee gekommen ist.
Ohne Index-Manager kann ich mir meine Arbeit nicht mehr vorstellen.
This is all in all a very promising piece of software, with a multitude of possibilities for compiling embedded indexes. As the developer is perfectly willing to make changes to the software, it could become almost perfect.
Now it's your turn!
Put us to the test
Try out Index-Manager with your own data. Download and install a time-limited version for 14 days for free. All functions except export are available. To test full functionality, our support team will gladly unlock the export function for you upon request.
To request your test version: info@index-manager.net