The flexible and intelligent indexing software for book indexes, catalogs, technical documentations and search applications in digital products.
Benefit from professional indexing features and integrate index entries into original documents.
That's how indexing is done today!
Demo Version
Download and install a time-limited version for 14 days for free here.
5 easy steps to your index
Import — Indexing — Editing — Verifying — Export
Intuitive design makes Index-Manager easy to learn.
One-off users benefit just as well as professional indexers.
Index-Manager will free you from the mundane aspects of indexing, and allow you to devote more time to important content-focused tasks.
During export, index entries are written into source documents for easy processing by your target publishing program, allowing you to use your index for all future products and editions, print or digital.

Who uses Index-Manager?
Publishers, packagers, research and technical institutions, freelance editors, indexers, authors and students

For PHD theses, books, magazines, specialized texts, catalogues and technical documentation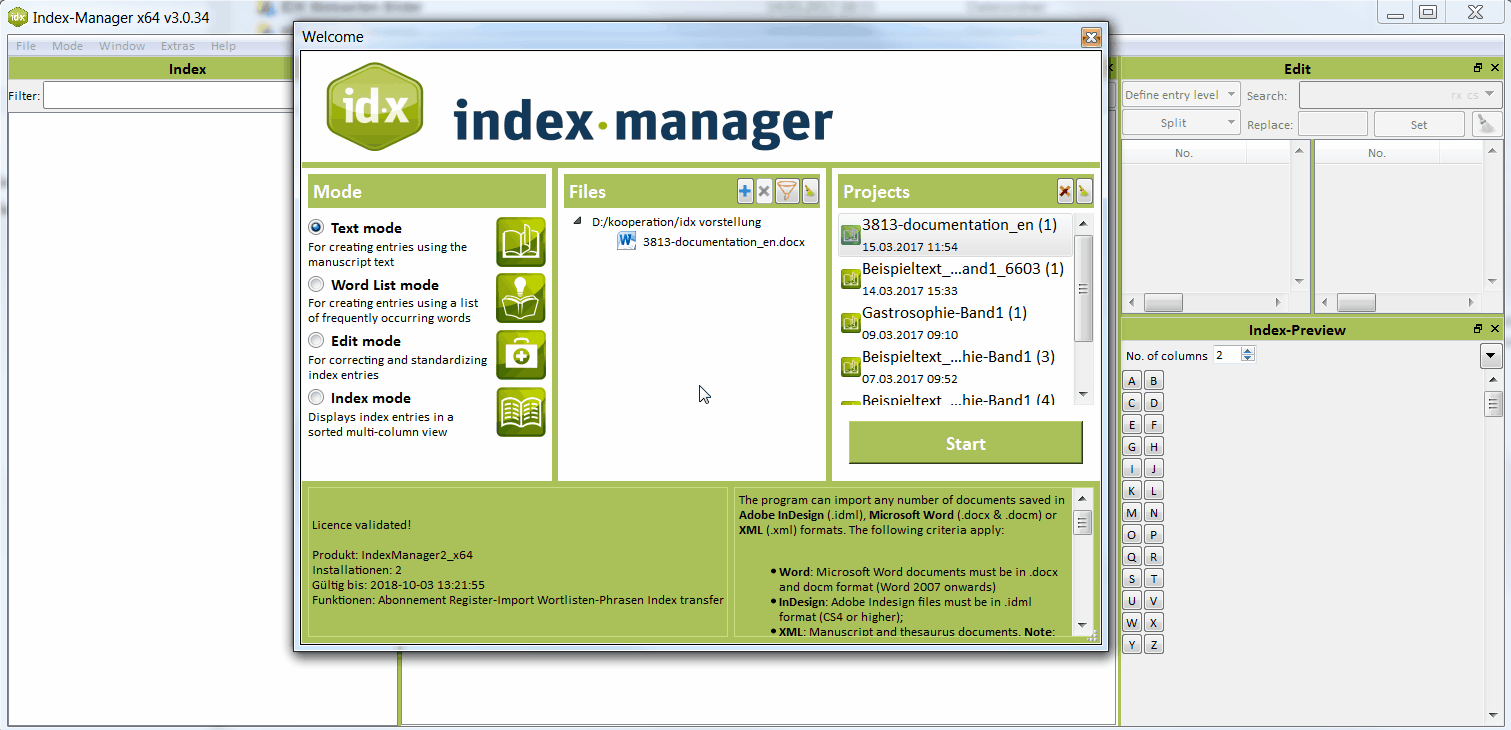 Import
In Index-Manager you can work on more than a hundred files at once by using the consolidated index preview.
Index-Manager supports the following file formats
Microsoft Word (.docx, .docm),
Adobe InDesign (.idml) and
XML after adapting it to your DTD.
The program automatically saves a list of imported files as project.
Indexing
Create new index entries. Choose words or phrases by double-clicking or enter them manually.
Customized short cut keys can ensure you work quickly.
Innovative word list functions allow for systematic indexing and support the choice of terms: powerful filter options enable display according to paragraph and character formats, XML tags, or your own word lists.
One click is all you need to generate hundreds of potential index entries in a uniform way at all occurrences in every loaded file. Streamline production of name indexes with one click!
Index-Manager has been in use for over four years. We are delighted by exceptionally positive response from our customers.
Schade, dass nicht schon viel früher jemand auf diese Idee gekommen ist.
Ohne Index-Manager kann ich mir meine Arbeit nicht mehr vorstellen.
This is all in all a very promising piece of software, with a multitude of possibilities for compiling embedded indexes. As the developer is perfectly willing to make changes to the software, it could become almost perfect.
Verifying
Preview the index in a multi-column view any time – no time-consuming setup necessary.
The cross reference editor displays and manages synonyms comfortably as "source" and "target" entries. The software will warn you if an entry doesn't match. To determine freely reference types for your cross references just type directly in the cross refence box.
Make a correction once in the index preview and that correction will carried out throughout all the corresponding entries in the loaded files.
Easily export the Index as a text file at any time, e.g. for proofreading.
Export
All indexing work is logged in a separate file until export.
When you're ready, one click inserts index entries into the document files to be read and used by the source program and which you can then use for
all future products and editions, print or digital.
Index-Manager ensures problem-free transfer of index entries between different file formats (InDesign, Word, XML). You are in control – no need for any exhausting post-editing!
This separate logging allows other tasks – like copyediting and proofreading – to be accomplished in parallel. Working parallel on the data enables you to publish earlier and always be one step ahead.
Johannes Munk
Index-Manager software architect
Index-Manager offers a variety of functions that facilitates both content analysis of text and quality embedded indexing at the same time. The index tags will be available even for future editions.
Now it's your turn!
Put us to the test
Try out Index-Manager with your own data. Download and install a time-limited version for 14 days for free. All functions except export are available. To test full functionality, our support team will gladly unlock the export function for you upon request.
To request your test version: info@index-manager.net